After performances in the early days of the band, we often got asked if we had any CDs. We didn't. In fact we hadn't really ever thought that we could do something like that. But, over time, that question came up enough that it helped us gain the confidence to record an album. We gathered our material, came up with some funds - thanks especially to the Parks Warden Alumni for giving us seed money to get that going too! We found a hungry young producer, Leeroy Stagger, at The Rebeltone Ranch in Lethbridge and booked some studio time. Listening back, it's clear we were young too!

We started playing together as a band in 2010 and by 2013, when we recorded the album, we were still developing our sound - experimenting with drums and including other instruments like dobro and mandolin, Ray was playing electric bass and we were only just beginning to add simple two-part vocal harmonies.

Looking for the right cover art for the self-titled album, we found this painting by park warden Wes Olson. It was the perfect fit. The cover shows only half the painting, so to see it in its panoramic glory you'll need to tear apart the CD jacket...but wait don't do that, we've added the picture here instead.

See Wes Olson's complete Park Warden Series art.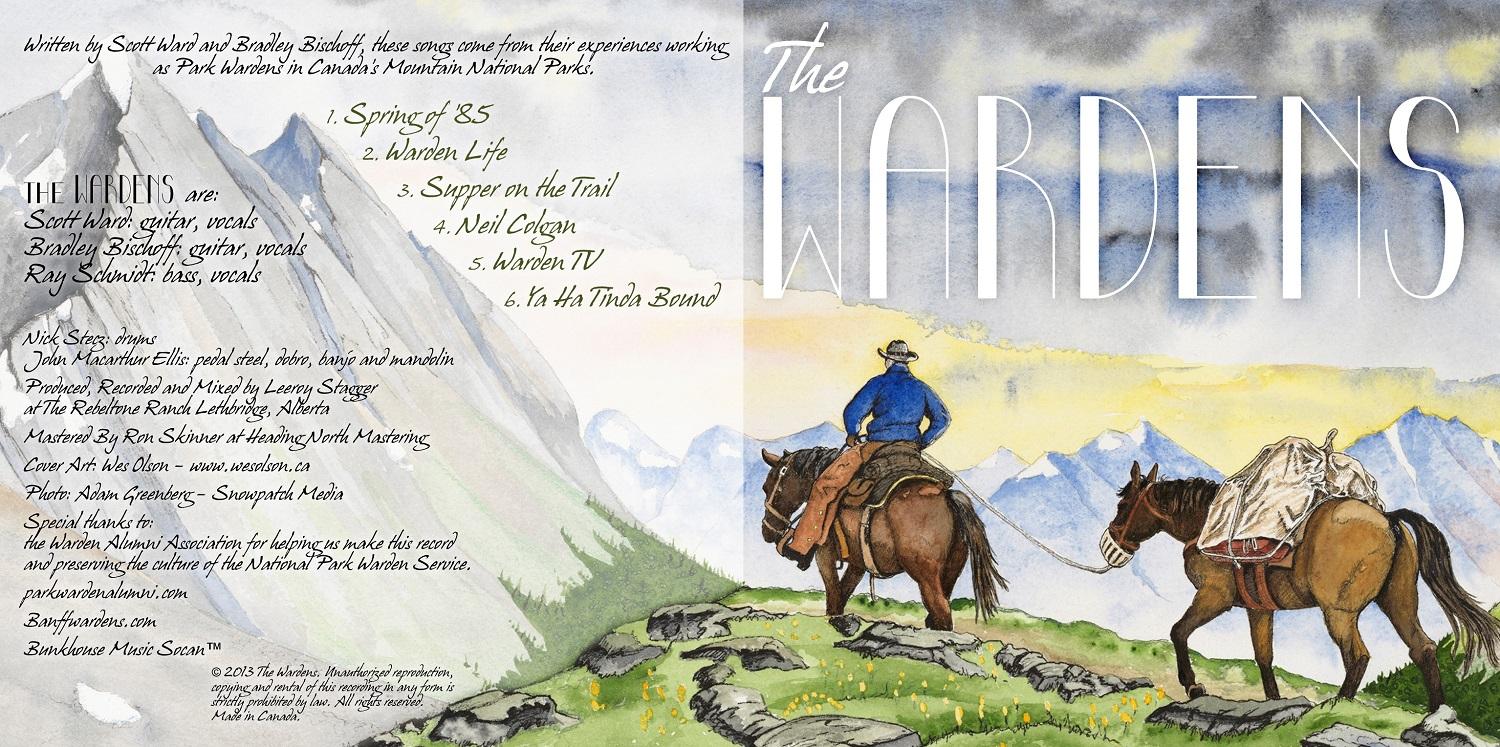 We shot the band photo for our inaugural CD at Windy cabin. This cabin, built in 1911 as a warden patrol cabin is the oldest of its kind in Banff National Park. It sat along the Panther River in Banff's backcountry until it was moved log-by-log into the Banff townsite in the early 1970s. It now lives behind the Whyte Museum of the Canadian Rockies. Still today you could spark up a fire, sleep on the bunk or even self-isolate here for 14 days. Windy cabin proved to have the right vibe for us.

The full photo shows some of the inside detail and was shot by Adam Greenberg who himself works as a Rescue Technician for Waterton Lakes National Park. The image is printed on the disk itself along with the track list. Some songs on the album are still our most enduring, including Supper on the Trail and Warden TV. The song Ya Ha Tinda Bound was so important to us that we even re-recorded it on our 2017 Sleeping Buffalo album because we felt the song just kept getting better as we performed it.

This CD will follow Windy cabin and will soon go out of service as it's now out of print. We still have some copies left, but make sure to hang onto this "deep cut", it'll fetch a pretty penny on ebay someday.

As a band we often talk about how we didn't smile in that photo. We just thought that's how band photos were supposed to be! But we still like it.