The most productive period for The Wardens began with the Bear 66 album in 2014. Even though it was only a year after releasing our debut CD, we were now tightening up our sound and adding three-part vocal harmonies into our music. Our vocal harmonies have since become one of our distinctive signatures. The first track on this album "High Country Nights" showcases that trio of voices. It's a song we kicked off many shows with as we felt it immediately transported audiences into the solitude of the Rocky Mountain wilderness. We're wardens first, so these vocal harmonies didn't come easy. There are many, many hours of difficult rehearsals that went into figuring it out. We get them right most nights ?

For the album cover, the song Bear 66 provided the most obvious (and fun!) spinoff. Alongside elements of the Smokey Bear art we had our cover! Our own national parks provided the colour palette for the signs and symbols. Remember those old brown and yellow trail signs and symbols? If you lift up the disk inside the CD cover you can see the old national park symbol for the park warden station. The symbol is of course quite weathered. As the lyric in the Bischoff/Ward co-written song "Old Brigadier" goes:

"The lines on his face, he's earned every one.
It looks like a roadmap to Waterton."

The Bear 66 album contains audience favourites like "Silly Questions", "Adventure Before Dementia" and "War(den) Bride". Now, call us old school (just not old!) but even though music streaming is a nice and easy way to access songs, we feel that a CD cover provides an important companion piece to the entire body of work.

Because our stories are as much a part of The Wardens as the music, we decided to include a short description of each song and a lyric teaser inside the CD jacket. If you've seen us in concert, these will remind you of the full story and if you've never seen a show, we feel like after reading the liner notes you'll hear our music a little differently.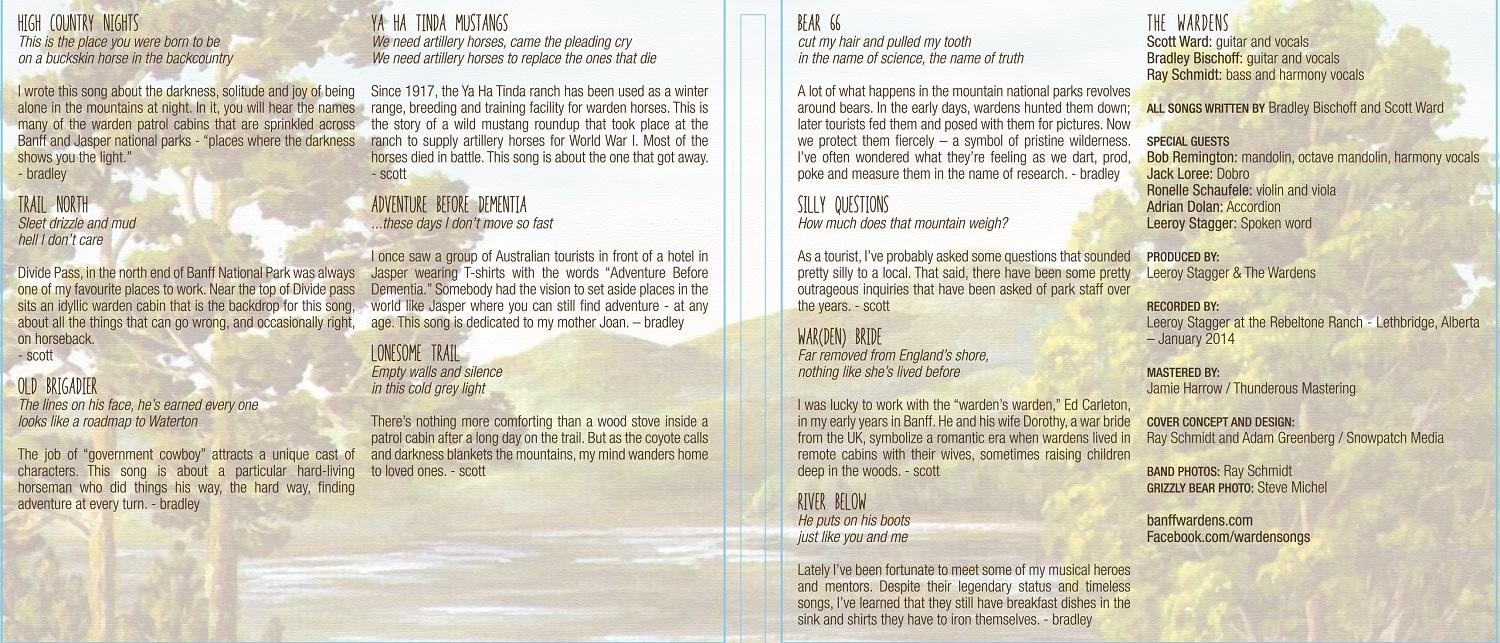 Of course, along with the stories and music, our image projections are also a big part of our live performances. This multi-sensory experience was also something we wanted reflected in the small space that is afforded us on CD jackets. The flagship image is by Banff National Park's Human-Wildlife Conflict Specialist Steve Michel, an action shot of wardens during a grizzly bear immobilization. The image relates to the title track - Bear 66, written by Bradley - which touches on the delicate balance between our thirst for scientific understanding versus the impact our actions might have on the bears we're asked to protect.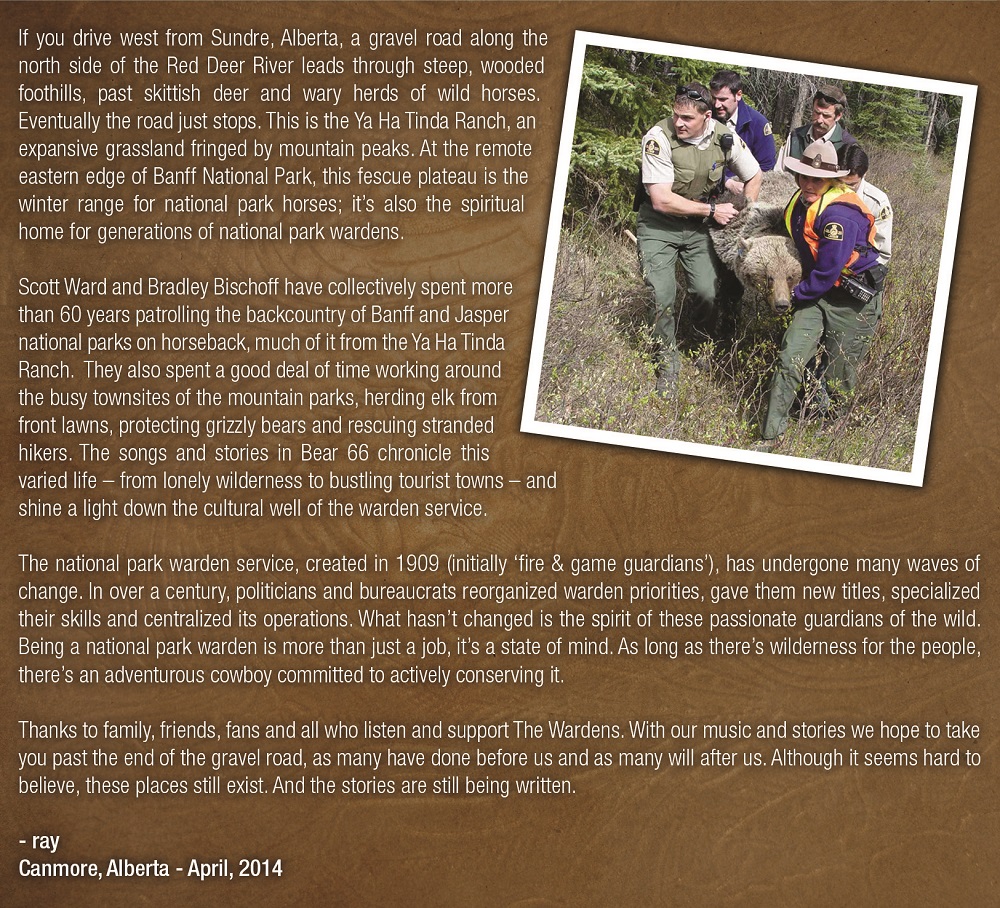 Every album has to have a band photo, if for no other reason than to prove how little we've aged over time. The main band photo comes from a larger image that shows us holding bricks. Yes, bricks! We've cropped them out on the CD cover, but the bricks came from pedal steel musician Tim Herman who we met after our show at the Inspire Café in Medicine Hat. He gifted us these authentic red bricks that came from one of the old factories that used to define the town.
Tim said this when he handed us the bricks:

These are the keys to the city. With these bricks you can get into absolutely any building you want!"

Probably why we're smiling.