In April, 2017, the day we released Sleeping Buffalo, free-ranging buffalo (or bison) were being trans-located back into the Banff National Park wilderness. This was the first time buffalo would set foot in this wilderness since the species was brought to its knees more than a century earlier. When we wrote the song for the album, the return of this great species was still a distant idea. But, through no small effort by all involved, things came together and today there is a free-ranging herd in Canada's first national park.
The buffalo on the cover of the album is a depiction of what a national park pass would have looked like in the 1930s and 1940s. When entering the park, visitors wired a brass buffalo to the grill of their radiators. They would never have seen a wild buffalo.
When we designed the album cover there were no images of buffalo in the park. So for the back cover we got creative. We teamed up with Johanne Janelle, a world-class wildlife photographer who captured the stunning colour image of a skull in Grasslands National Park. We took that image and created a photo-composition by merging the skull onto an empty meadow at the eastern edge of the Rockies that looks eastward at a feature called "Warden Rock" . Wouldn't it be something, we thought, if someday the lifecycle of the buffalo in Banff would come full circle.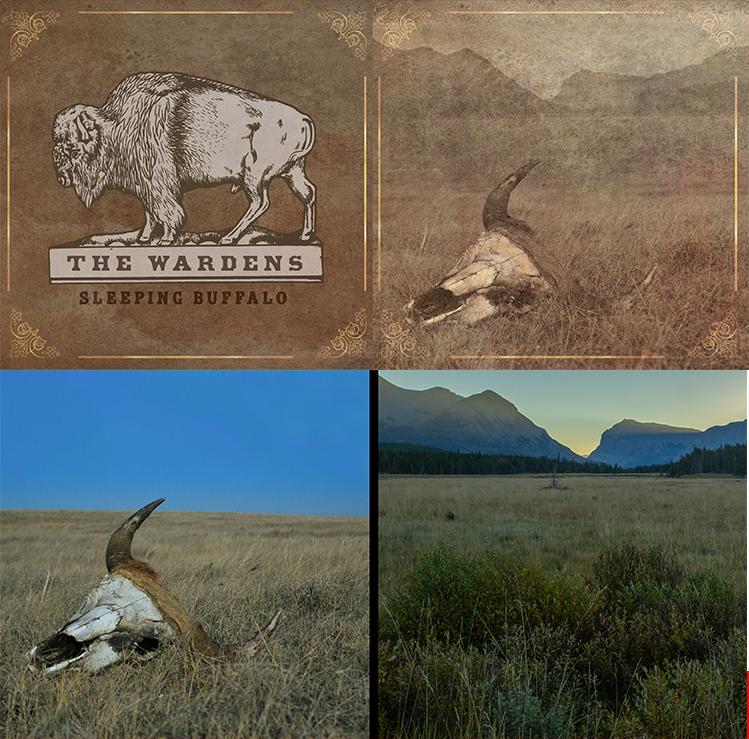 With Sleeping Buffalo in print, we toured hard. From early 2017 until the pandemic shut us down this spring, we squeezed in 50 shows a year in some of the finest listening rooms in the west. It was frantic, but so much fun.
Songs like the Ballad of Bill Neish, Suicide Bridle, Backfire and Across the River began to grace every setlist. Ya Ha Tinda Bound was still our performance anthem, and we had a re-recorded version on this album (produced by Leeroy Stagger) with fantastic fiddler Calvin Vollrath. It was now exactly how we wanted it to sound.
To kick things off, we performed at the Banff Centre's Rolston Recital Hall with a full backup band - Bob Remington, Jack Loree and Scott Duncan (who many of you will recognize as our regular fiddler now). It was a magical night filled to the brim with our people at a spectacular performance venue right there on the slopes of the mountain the indigenous people of the region call the Sleeping Buffalo.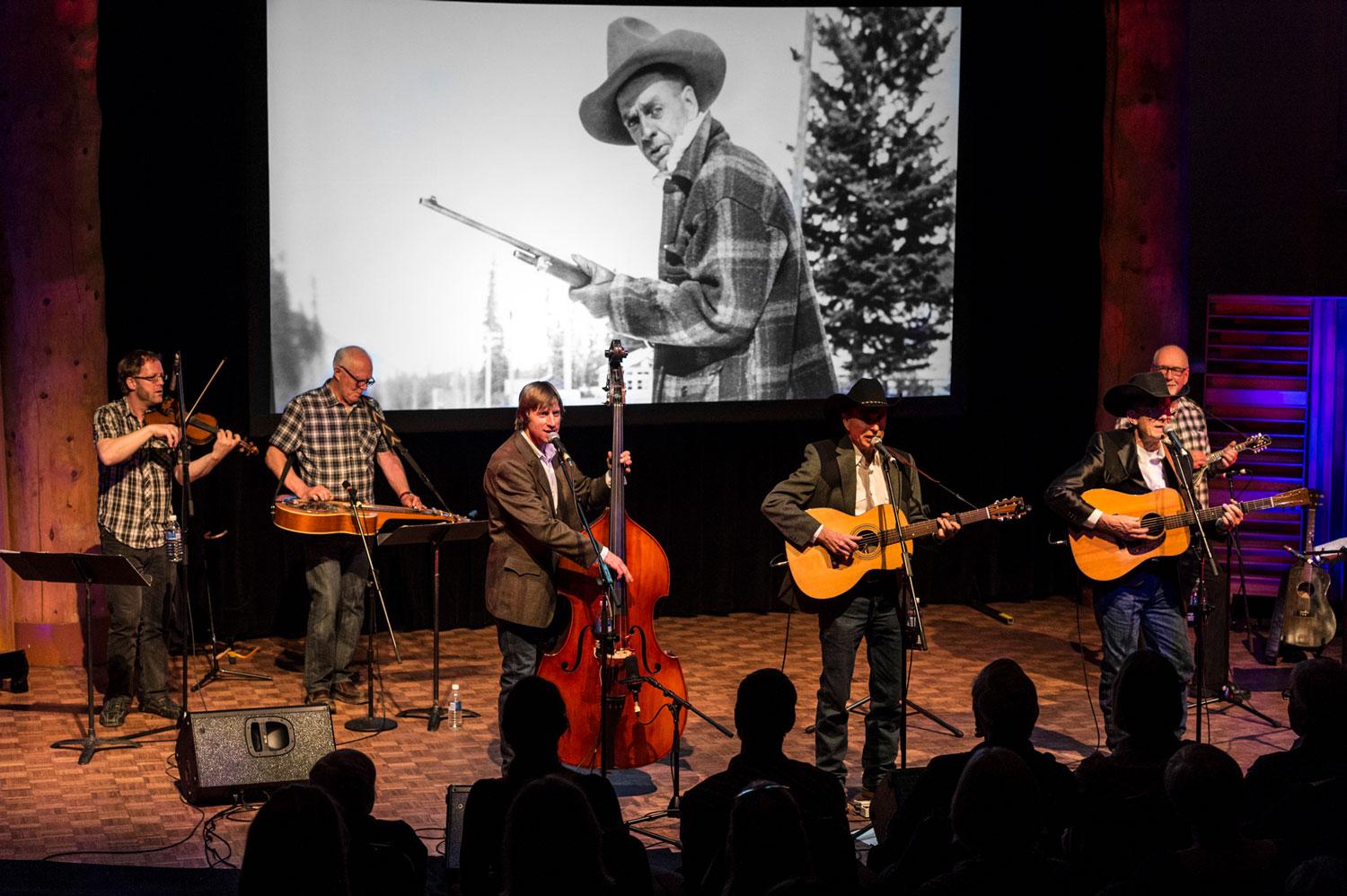 We recorded Sleeping Buffalo at producer Leeroy Stagger's brand new studio space back in Lethbridge. We brought in Bob Remington to play mandolin and up-and-comer Ryland Morantz was around to play some banjo on a few tracks and Jack Loree who also appeared on Bear 66 came down to lay down some of his sweet dobro sounds. Once we had the songs complete, we then sent them away to a number of session musicians to lay their parts over top. Using this technique we could ensure we got the best musicians to add colour to our songs. When the dust had settled we had something that we thought was the best work we had done. With Leeroy at his Rebeltone Ranch studio we had matured together for this 3rd collaboration. So it was a treat when we began to get some accolades in the music community. Shortly after its release Sleeping Buffalo was nominated for Album of the Year by the Alberta Country Music Association and Across the River was nominated for Song of the Year at the YYC Music awards. Recognition helps any artist, and with nominations in hand, we hit the road.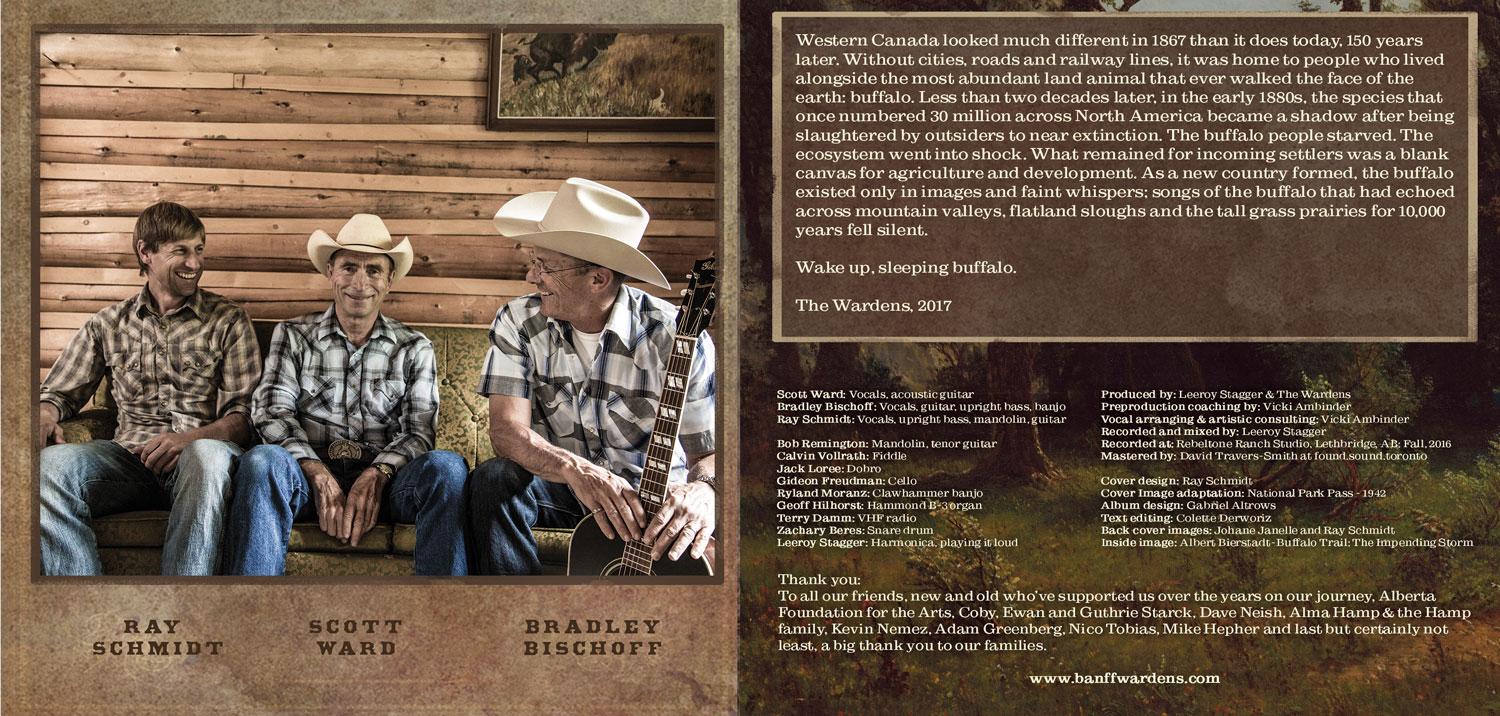 As ever, we included shortened versions of our stories on the album to ensure the after-show memories of The Wardens remain in some form. We're very proud of this album and where we arrived with it. Touring the album has improved us as a band and provided a seed bed for a new album.